Dexa Scan for Osteoporosis in Fresno, CA. $150 Full Body Composition Scan
A DEXA scan is a high-precision type of X-ray that measures your bone mineral density and bone loss. It is never too early to learn how to treat and care for your bones! Discuss with our specialists if a DEXA scan may assist you in evaluating your bone health. At Fresno Medical Center, Dr. Gurmej Dhillon, MD, and our team of medical professionals proudly offer dexa scans for osteoporosis. Contact us for more information or schedule an appointment online. We are conveniently located at 6069 N First St # 103, Fresno, CA 93710.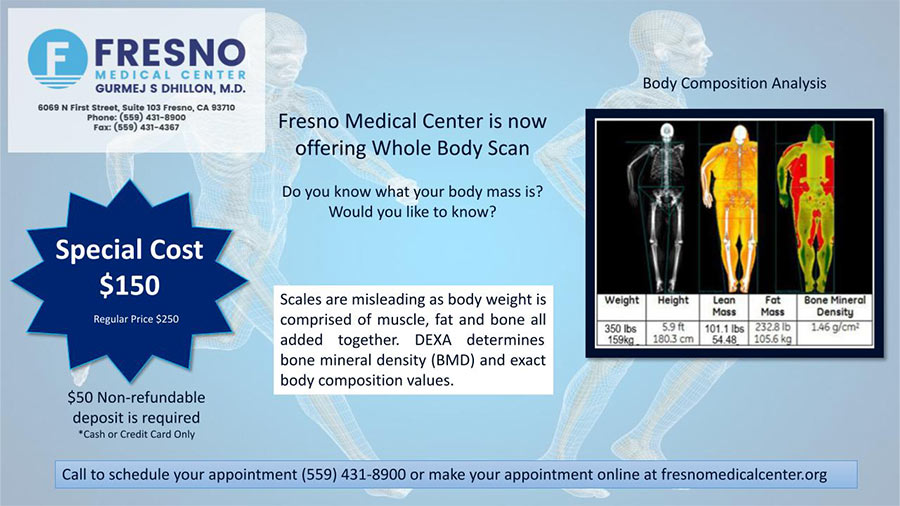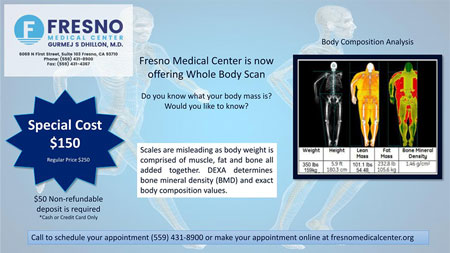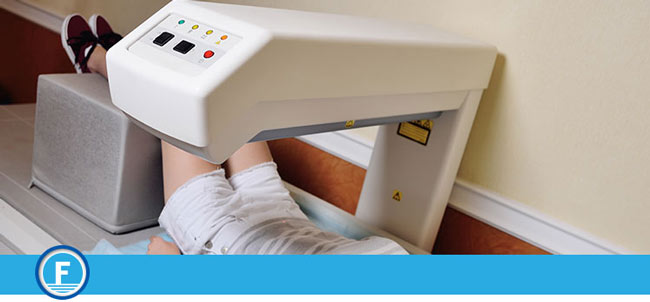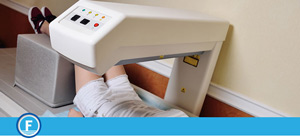 Table of Contents:
Who should get a bone density test?
Is radiation involved in a DEXA scan?
How is a DEXA scan performed?
How long does a DEXA scan take?
How do I prepare? Do I need to fast?
When will I receive my results?
A dual-energy X-ray absorptiometry (DEXA) scan, also known as a bone densitometry scan, is an enhanced form of X-ray that uses minimal radiation and is most often used to diagnose osteoporosis, and is most commonly performed on the spine and hips. In addition to osteoporosis, DEXA scans can also detect and assess one's risk of experiencing fractures. We have provided more information below about DEXA scans so you can know all you need to know about them, including how they are performed and who should get one.
Who should get a bone density test?


Bone density tests are highly recommended for any individual who:

• Is experiencing post-menopause and is not taking estrogen.
• Has a thyroid disorder, such as hyperthyroidism, or a parathyroid disorder, such as hyperparathyroidism?
• Has fractured a bone after only mild trauma.
• Uses medications that cause bone loss as a side effect, including Prednisone or high dosages of thyroid replacement drugs.
Is radiation involved in a DEXA scan?


As an enhanced form of X-ray technology, a DEXA scan involves a limited amount of radiation. However, the amount of radiation exposure that a DEXA scan involves is very low—approximately 50% less than the radiation in a Chest X-ray. At the same time, radiation exposure can add up, so doctors do not recommend DEXA scans as a regular or routine diagnostic procedure. In general, DEXA scans are only necessary once every 15 years for women 65 and older with expected results, while women in that age group with more bone loss will need more frequent scans, but not more than once every two years.
How is a DEXA scan performed?


A DEXA scan is performed by a radiographer (X-ray specialist) with the patient lying on a flat, open X-ray table. The specific position the patient lies in depends on the area of the body being scanned. The radiographer will use foam blocks and other positioning devices to help the patient hold their position. Once the patient is in the proper position, the radiographer asks them to lie very still as the large DEXA scanning arm slowly moves over their body. The scanning arm emits two different types of narrow low-dose X-ray beams through the area of the body being examined. The DEXA scanner collects the bone density measurement data and translates it into pictures and graphs that appear on the radiographer's monitor. The radiographer or physician will then analyze and interpret the results before sending them to your provider.
How long does a DEXA scan take?


In total, a DEXA scan should not take more than 25 minutes to complete. When considering preparation time, most patients can have their appointment and leave the clinic within 30 minutes.
How do I prepare? Do I need to fast?


Preparation is minimal for a DEXA scan, as you can eat and drink as you usually would leading up to the scan unless your doctor tells you otherwise. With that being said, you should wear loose-fitting clothing that does not contain any metal from buckles, buttons, or zippers and stop taking any calcium supplements 24 hours before the appointment.
When will I receive my results?


While the timing varies with each patient, you can reasonably expect to receive results back from your DEXA scan within a week or two.

Fresno Medical Center is proud to provide DEXA scans for osteoporosis in Fresno, CA. For more information about DEXA scans or an appointment with us, please call us, schedule an appointment online, or visit our clinic for a walk-in appointment at 6069 N First, Suite 103, in Fresno, CA 93710. We proudly serve the areas of Burness CA, Fresno CA, Locans CA, Lone Star CA, Mayfair CA, Muscatel CA, Oleander CA, and West Park CA.